Experienced Hospital Executive Named First CEO of Catholic Benefits Association and Catholic
Insurance Company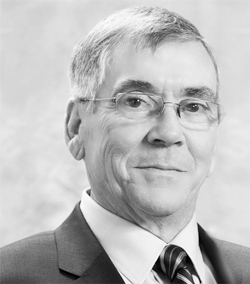 OKLAHOMA CITY – The Catholic Benefits Association (CBA) and Catholic Insurance Company (CIC) have named Douglas G. Wilson, Jr. as their first Chief Executive Officer. Wilson, of Franktown, Colorado, previously served as CEO of five distressed hospitals throughout the United States, turning each around. He has also successfully grown three startup health care-related enterprises.

Archbishop William E. Lori, President of the Catholic Benefits Association and Archbishop of Baltimore, remarked, "The Board is tremendously enthusiastic about Doug becoming our first CEO. His deep experience and success uniquely positions him to lead the CBA and CIC to achieve its mission of making quality, competitive, morally-compliant health care coverage available to our members."

"Over many years as an employer," Wilson explained, "I myself have experienced the challenges of providing quality health care benefits to my employees at prices we could afford without making the benefits inaccessible to them and their families." Wilson continued, "New regulations imposing mandates contrary to Catholic values have made it nearly impossible for Catholic employers to manage their ministries and businesses consistent with our beliefs. I feel privileged to work with CBA members in defending our right to do business according to our faith and, at the same time, to manage the Catholic Insurance Company so its services meet our members' benefits goals: quality, cost effectiveness, accessibility, and moral integrity."

A graduate of Georgia State University with a master's degree in Health Care Administration, Wilson began his career in health care at St. Joseph Hospital in Atlanta. From 1979 through 1990, he specialized in the rehabilitation of struggling hospitals. As CEO of four hospitals in California and Nevada, Wilson led efforts that increased utilization, revenues, profits, and quality. He also managed twenty-nine ambulatory surgery centers and developed scores of physician partnerships. As Corporate Director of Development for a startup hospital management company Wilson identified, acquired, and integrated rural hospitals into the company's operations and grew it from startup to fourteen hospitals in a four year period. Wilson returned to hospital management as CEO of Pekin Hospital in Pekin, Illinois from 2001-06 and grew its net revenue grew by 73% while earning the Malcolm Baldrige award for quality and a top 10% patient, physician, and employee satisfaction ranking. Cuattro Companies is one of the start-ups Wilson led. It is a developer of portable and fixed digital x-ray equipment and imaging software for physicians and veterinarians. Wilson helped grow it from no revenue and no employees to $35 million in revenue and a worldwide workforce of over eighty.

Dr. Carolyn Woo, President of Catholic Relief Services and CBA board member said, "Given the growth of the CBA and the CIC over our first year, the Board is focused on communications with current and prospective members and on making the CIC program as competitive and accessible as possible. Doug Wilson is the perfect person to achieve these goals."

The CBA is an association of Catholic employers committed in their defense of their First Amendment right to witness their Catholic faith, through their ministries and businesses, by providing their employees with life-affirming health care coverage consistent with Catholic values. There are 691 Catholic employers and 3,428 parishes in the association, covering more than 68,000 member employees. They include Catholic dioceses, religious orders, social services agencies, colleges, nursing homes, cemeteries, retreat centers, and medical facilities. The Catholic Benefits Association serves both non-profit ministries and for-profit businesses.

The CBA also makes it possible for Catholic employers to exercise their religious values through the health coverage they provide their employees. To accomplish this, the CBA has formed a wholly-owned subsidiary, The CIC offers provider networks, administration, and stop loss insurance to assist Catholic employers in providing comprehensive, quality health care that honors the dignity of the human person. The CBA also provides vigorous defense of its members' First Amendment religious liberty regarding such coverage.